"What are you talking about" is a question I often get asked. Well as this is the 100th post on our Insight blog I figured I would give a bit of an overview of exactly that, and also reflect back on some previous submissions hopefully signposting you towards some classics you might have missed (like when a sitcom do a clips show episode)
Am I going to read back through 99 blogs spanning 3 years? Am I heck!
I'm just going to stick all the content into R and do some quick and simple text analysis!
What are we talking about?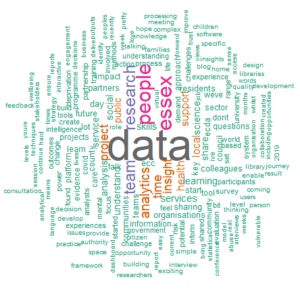 As this is a data analytics and research site, it wont surprise you that we are talking a lot about data and research. What is most interesting here is that after 'Data' and 'Essex' the third most used term is 'People'. The 'People' of 'Essex' are at the heart of everything we do.
We can also summarise our 99 blogs into some key re-occurring themes: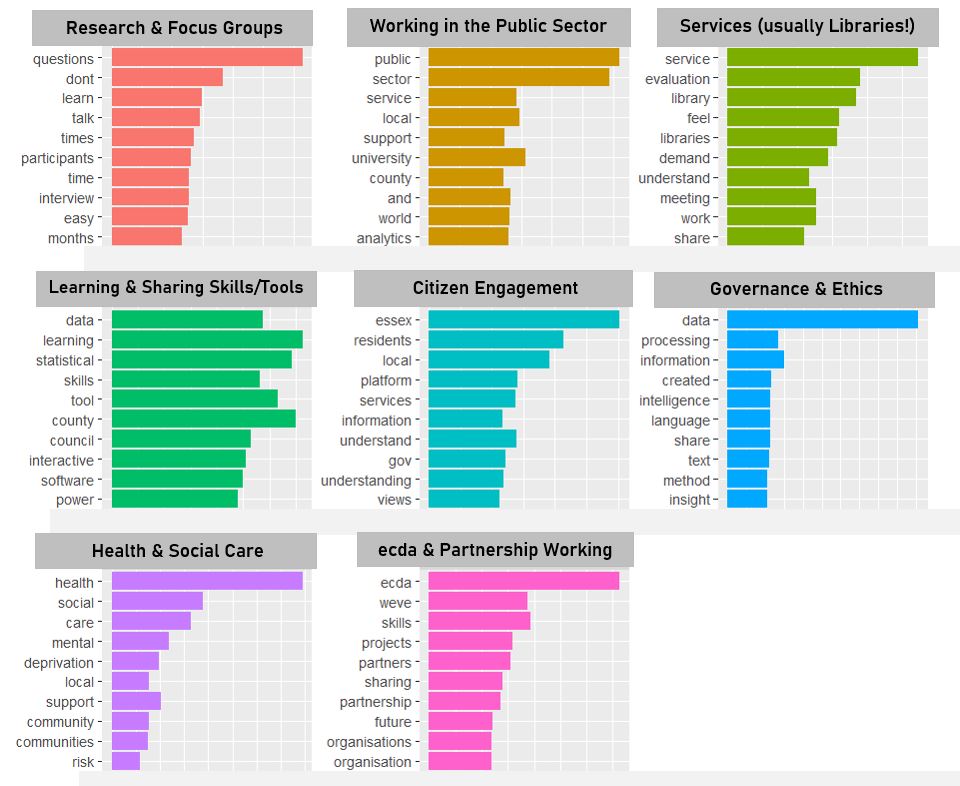 Using a topic modelling approach we can group together words that appear consistently together. Health & Social Care has unsurprisingly been a prominent subject over the last few years. But you will see that we also like to share 'how we work'. 'how we engage with citizens', and 'how we learn and develop'.
What's the difference between research and analysis?
This site is shared by our various intelligence and insight teams at Essex County Council - and it was interesting to observe the subtle differences between 'important' terms used by the data & analytics team vs the research & citizen engagement team: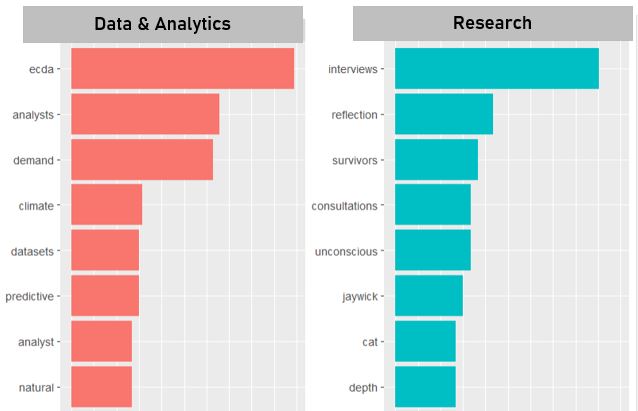 Using a method called TF-IDF (see the last blog for more info) we can isolate words uniquely important to specific groups.
Data & Analytics talked about the Essex Centre for Data Analytics (ecda) (*makes sense) and datasets. 'Demand' made an appearance due to the high volumes of demand modelling and forecasting exercises we are involved with, using 'predictive' analytics.
Research conduct many 'interviews' and 'consultations' gathering in 'depth' intelligence from our residents. And 'cat'. They apparently talk about 'cat'
And the winner is...
I thought I would end on a very Essex County Council indulgent theme. In part to thank the many people that have contributed to this site, but also there may have been some useful content you've missed! Using sentiment analysis I've found the most emotive blogs to dish out some awards (*disclaimer: awards are metaphorical and you will get nothing from me)
I hope those that have read the 99 previous blogs have found them useful, interesting, informative, and engaging. We will continue to share our work. Thank you
The Anticipation Award


Research while working from home can be done
The Happiness Award


The Very Hungry Juniors
*What I liked about this was that positivity decreased as length-of-service of author increased! Make of that what you will!
Tough Times Award


A Gini can make your wish come true...
*This isnt reflective of the authors personality! This illustrates how often we are talking about either challenging projects or difficult subjects
Shock & Astonishment Award


The Birthday Paradox and the Football Enigma
*Who? Me?
Honest as the day is long Award


And a lifetime achievement award for Poppy Reece who has contributed the most blogs with 13, narrowly pipping me to the post with 12
Congrats Poppy - here is a picture of some cats