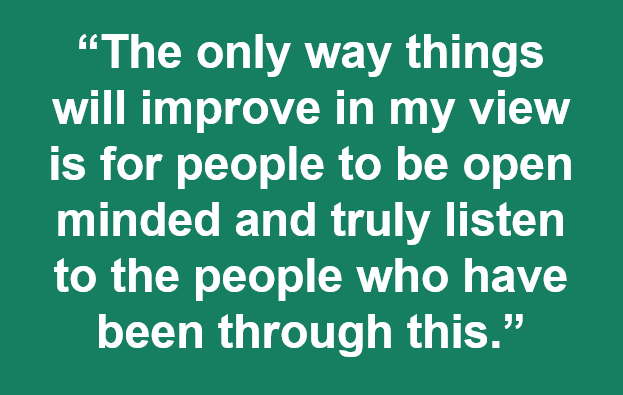 Recently we completed a research project with survivors of domestic abuse, and wanted to share a bit about how we did it and why it was so important to us that this research has an impact.
What we did
We engaged with survivors of domestic abuse over a period of several months, to explore how survivors want to share their views, provide feedback and be involved in decision-making, in a way that is best for them.
We had a good idea of the general challenges around domestic abuse from previous research we've carried out. But this was different, and focused on hearing from diverse groups and those less well represented, to understand how they want to have a voice.
This was to inform ECC's statutory duty under the new Domestic Abuse Act to ensure representation of the voice of victims. But it wasn't just about ticking a box and there is no single right way to do this – our commissioners were really keen not to jump to solutions based on our own assumptions of what people want or need.
That's where the research comes in. Through an online survey, depth interviews, focus groups, visits to refuges, engagement via specialist workers at ECC and partner organisations, we engaged with a total of 35 survivors.

This mixed methods approach was key in enabling us to hear from a range of people, as some preferred to give views anonymously online or engage via trusted specialist organisations, whereas some were happy to come forward and talk to us directly.
We were humbled by how people opened up to us and the bravery that it took for some to share their experiences, and are grateful to all who contributed to the research as well as organisations who offered support.
Sharing the insights
We felt that this research was too important to end up on a dusty virtual shelf, and wanted to do right by those who engaged with us by reporting the insights in a way that would move people to action.
Before even giving feedback, my first thought is will someone care about it, will I be heard, will it make a change? If I feel yes then I will give feedback, but there is a lot of doubt that it's not going to make any changes or not going to go anywhere. [Research participant]
This meant influencing the hearts and minds of key stakeholders and those with the power to make real change.
Each project is unique, and what works for one may not work for another. For example for some research projects we have produced short videos where participants have shared their stories on film, which has been a great way to share insights with key audiences.
But for a project such as this with survivors of domestic abuse, anonymity is of utmost importance, and we needed to be really sensitive to how we shared people's stories in a way they felt comfortable with.
Often the stories spoke for themselves and it really is as simple as using survivors' own words to make the point, along with emotive case studies to bring these situations to life, and hard-hitting quotes which can create a 'shock factor' and make people really think.
Partway through the research we ran a show and share session for colleagues where we kicked off by presenting the story below from one of the survivors we had engaged with.
While reading this you may have created a picture in your mind of the victim and perpetrator, but what if we told you this survivor is a male and his wife was the perpetrator?
If you fell for our trap, you're not alone. There was some surprise among those attending the session when we revealed this person's gender, which prompted some discussion around our preconceptions and how domestic abuse tends to be portrayed.
We didn't do this just to trick people (although it is an interesting experiment). We wanted to highlight one of the key takeaways from the research, that domestic abuse can affect anyone.
The more people we spoke to during this research, the more apparent it became that tackling stereotypes or outdated ideas and being more inclusive in our approach to providing services, is essential in ensuring that everyone is able to access the help they need.
Moving to action
With the research being focused on such a sensitive and complex area, our recommendations for next steps needed to reflect this.
We structured our suggestions for 'moving to action' with a phased approach, acknowledging that meaningful engagement and co-production doesn't happen overnight and that this wasn't about creating 'quick wins'.
This starts with recognising that survivors can only engage and collaborate with ECC when they have been able to get the support they need, at the right time for them.
A targeted approach is also needed to reach all who may be experiencing abuse. Our report includes some key considerations for communicating with specific groups such as male survivors, those identifying as LGBTQ+, those with disabilities, and children and young people.
We've also outlined a number of 'building blocks for best practice' around engagement, based on our conversations with survivors.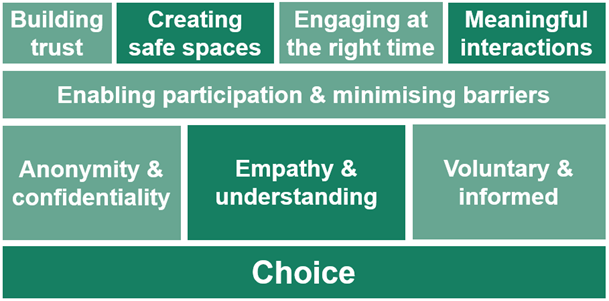 Our full report has much more detail on our key findings and suggested next steps, and is available to read on the Open Data platform.
There is also a workshop taking place in late February on 'moving forwards together' – if you'd like to come along, please contact research@essex.gov.uk for more info.
This is a challenge which requires good partnership working between stakeholders, service providers and communities, so we're keen to share our research far and wide to keep influencing the hearts and minds of those who can make a difference and work with us in this next phase.
We have been told to be quiet for so long…we have been conditioned to accept that our views and what we have to say aren't relevant or important…we need to be able to speak our views to be able to move on and get some control back in our lives. [Research participant]