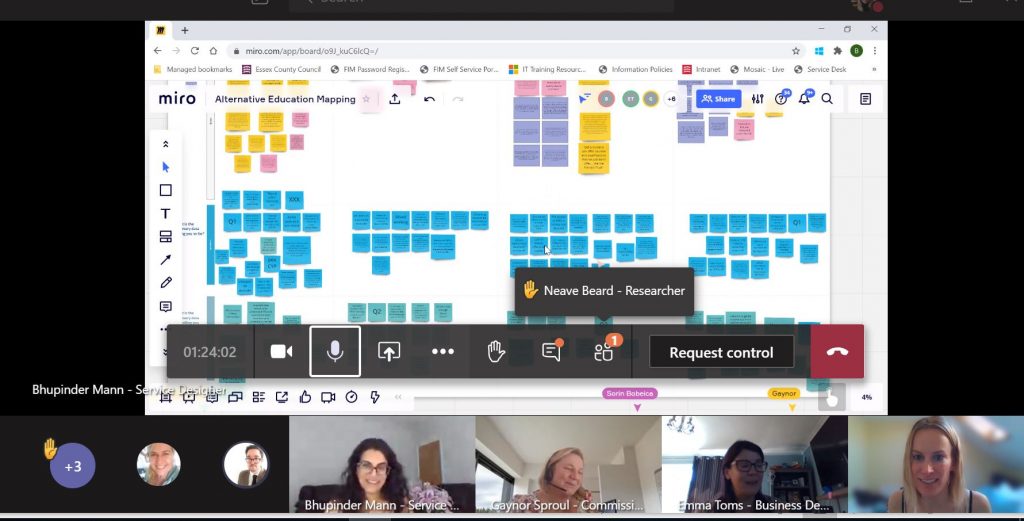 Am I right? Collaboration is one of those buzzwords that people put on CVs, in organisation bio's and on projects. But how often can you honestly say you've experienced true collaboration?
In a world that's lost its mind and where our only way to communicate is digitally I won't lie, I was not feeling entirely hopeful about working collaboratively. Surely sitting working on your own is easier right now than it ever has been, gathering insights and perspectives of project team members and participants solely through a laptop sounded…challenging.
I recently got the opportunity to work with the Service Transformation Team here at ECC on a project about the delivery and user experience of the Alternative Education service. An 8 week project involving 12 project team members who worked across 4 project streams and engaged with over 20 external and 6 internal participants in data collection.
And I can honestly say it was one of the best projects I've gotten to work on. I was asked recently for my advice on how best to support professional development from the perspective of a (relatively) new worker bee and I said: 'Work with as many different, new teams as possible'.
And the benefit of this was never clearer than in the case of the Alternative Education discovery. Thanks to a brilliant project manager and an agile way of working we completed all four project workstreams on time with true collaboration across the project team, 99% pain free.
So, how did we do it?
By utilising daily 15 minute stand ups that got straight to the point, two show and shares to ensure stakeholders were clued in as the final report began to take shape, feedback and insight pulling workshops among the project team and a project manager who told us to go for walks post-meeting to clear our busy minds, we managed to pull off a complete programme of work on time and remained an enthusiastic bunch eager to embark on the next phase.
Techniques as simple as asking the team when they are all at their most productive and scheduling meetings where it makes the most sense, kept us productive and engaged with the work and each other. If you've got both morning people and those of us who haven't seen the right side of 8am in a while, then we found post-lunch to be a great time for meetings.
The take-away
Safe to say I have taken what I learnt during the project and changed how I work. I reduced the length of my meetings, I make sure I have a clear idea of what I need out of a meeting, I get to the point, I get up and go outside for my morning and afternoon tea breaks, and most importantly I actively seek out working with my fellow worker bees even when sometimes it feels easier to do it in silo (buzzword alert), as I sit at my desk 100 miles away from Essex.