As the LARIA (Local Area Research and Intelligence Association) webinar series for 2020 kicked off this week Stephen Simpkin and I were lucky enough to present on the theme of local leadership. Along with the other presenters from Suffolk and Westminster it was clear that we all faced similar challenges, and all have different and novel ways of rising to them.
Our presentation was on the Anatomy of a Data Science team – yes there really was a skeleton, some guts and brains in our presentation - to demonstrate the five themes our team have established as priorities for 2020.  So, to kick start the deconstruction of the human body with a data science twist….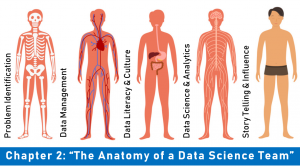 The skeleton – The bones of a data science project are constructed through Problem Identification – the structure that holds everything together (you'd fall apart if your bones were incorrectly assembled!) There is great value in being able to translate a business idea or question into a clearly formulated problem statement. And being able to effectively communicate whether that problem can be solved by applying appropriate analytics or data science.  Some of the tools we have embedded include the 5 whys and the NESTA 4 step method – specify the problem, define the action, design the product and assess the data available before we begin.
The circulatory system - The blood that flows through everything, giving life to every data science project is indeed good data management.  Data ontology is an underestimated skill.  However, in the last decade the two fastest growing jobs (up 650%) have been 'data scientist' and 'data engineer/developer'. Someone with a skilled understanding of your data is needed to 'manage' it, otherwise trying to get what you need is like trying to fish in an ocean using a hand grenade. We have skilled data developers who not only ensure data is accessible to all, but also help us automate and operationalise our work, creating endless efficiencies.    
The vital organs – Required for continued operation are good data literacy and the right data culture, and both happen to be the top two blockers for data and analytics leaders.  Companies with strong data-driven cultures tend to have top managers who set an expectation that decisions must be anchored in data — that this is normal, not novel or exceptional.  They lead by example.  In Essex, we are lucky enough to have three key sponsors in the ECC CEO, Essex Police Chief Constable and Uni of Essex Vice Chancellor, for our work as part of the Essex Centre for Data Analytics – championing and investing in the cause.
The Brain – The analytics and data science capabilities are the 'brains' behind everything that we do.  The skill sets required for a modern analyst/data scientist take a lot more learning and practice than a business intelligence analyst – and there is additional complexity and sophistication in the methods (and simply changing a team name from business intelligence to analytics doesn't mean the staff automatically inherit these skills). Our team's transformational journey has never been to turn everyone into fully fledged data scientists. We wanted our TEAM to be able to do data science work #DataScienceIsATeamSport and this year we have been making use of Data Camp, building an analytics network and training via the Uni of Essex.
And finally, what all good anatomy lessons ends with…
The Skin - The thing that wraps around everything and the vessel that showcases all your good work, or as we like to call it, the art of storytelling and influencing.  We have learnt there is no point creating an amazing model or delivering some fantastic analytics if you can convince your audience to take action as a result.  Three key aspects for us include:
Communicate what you need your audience to know – not everything you want to tell them – Whenever in doubt always simplify the message and start with the bottom line - why - not the detail.
Create human centred stories - What people really want to hear is a simple yet engaging story that gives them clarity so that decisions can be taken confidently. You've got to make people feel engaged, excited, concerned, angry in order to impress them. Why? Because research shows that people make decisions emotionally and back them up with logic afterwards.
Lead the horse to water and help it drink – It's not enough to just play back a story and insight, we have to go that extra step further and draw up firm conclusions, recommendations and prescriptive next steps to help people work out what to do with it. The extra 10% really is worth it!
Analytics & Data Science is more important than ever, which is why we participated in the LGA's peer review of predictive analytics in local governance earlier this year, the concluding report will be launched at the LARIA conference on the 10th November.
Participating in the LGA review and LARIA webinar support one of ecda's key ambitions to share learning with partners, explore problems and challenges, and enable the sector to develop a clearer narrative about how these technologies can be applied, what they are suited to, and how to embed them effectively.  After all, a dissection shared is a dissection learnt, which makes us all better analysts in this field!