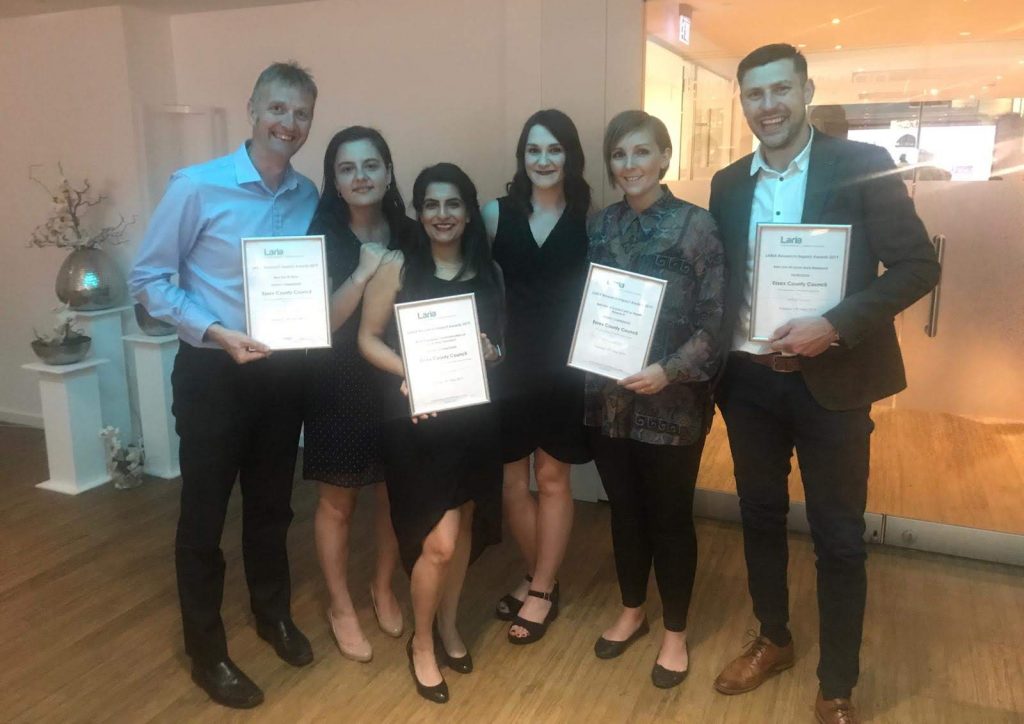 Last week some of the team went up to Birmingham for the LARIA Research Impact Awards and conference, and came away with three 'highly commended' awards for the Research and Data teams.
LARIA (Local Area Research + Intelligence Association) host awards each year, to showcase excellence in research within local areas across the public and private sector. We submitted a few entries across both of our teams, and having won for various projects in previous years, we all had our fingers crossed!
Research & Citizen Insight received two 'highly commended' awards:
Best use of social care or health research - Collaborate Essex
Collaborate Essex is a new model for engaging more collaboratively with adults with an experience of disability, enabling genuine co-production across the system.
The project team is a multi-disciplinary team involving members of the Research & Citizen Insight team, colleagues within Adult Social Care Commissioning, partners and providers, and adults with an experience of disability.
Most engaging communication of local area research - 'A library is more than a book': Essex Libraries research
Last year the team delivered a large scale mixed-methods research project to provide insight and gather evidence of the diversity of needs that Essex Libraries are meeting, to inform the Essex Future Libraries Strategy.
Not satisfied with just producing a findings report, we went all out and created a live staging of four distinctive library types identified within the research. We used library furniture, books, photos, quotes and persona case studies, to design a libraries tour which immersed our audience in our key insights and the stories we heard.
If you're interested in hearing more about this work, take a look at our blog post on the libraries research.
And our friends in Data & Analytics were shortlisted for their 'Safer Businesses' project, and also received a 'highly commended' award for:
Best use of data – Predicting Escalating Domestic Abuse
This is a collaborative data science project looking at combining data from a range of different partners, to identify communities at which people are most likely to be at risk of domestic abuse.
What next?
It was great to recognise our achievements of the past year, and we all had a fun evening at the awards dinner.
Unfortunately our data colleagues couldn't make it to the event, but we had no problem going up to accept the award on their behalf (and possibly drink their share of complimentary wine!)
We discovered that nightlife in Birmingham on a Tuesday night isn't exactly buzzing (although shout out to the brilliantly named Sack of Potatoes pub), and LARIA certainly put on a good spread for lunch at the conference.
There were a range of presentations and workshops being delivered over the two-day conference – look out for our upcoming and hopefully more informative post where we'll be sharing our key takeaways and interesting nuggets.
I'm sure some of us will be returning to LARIA next year and will hopefully bring back something shiny!