Meet the Research & Citizen Insight team!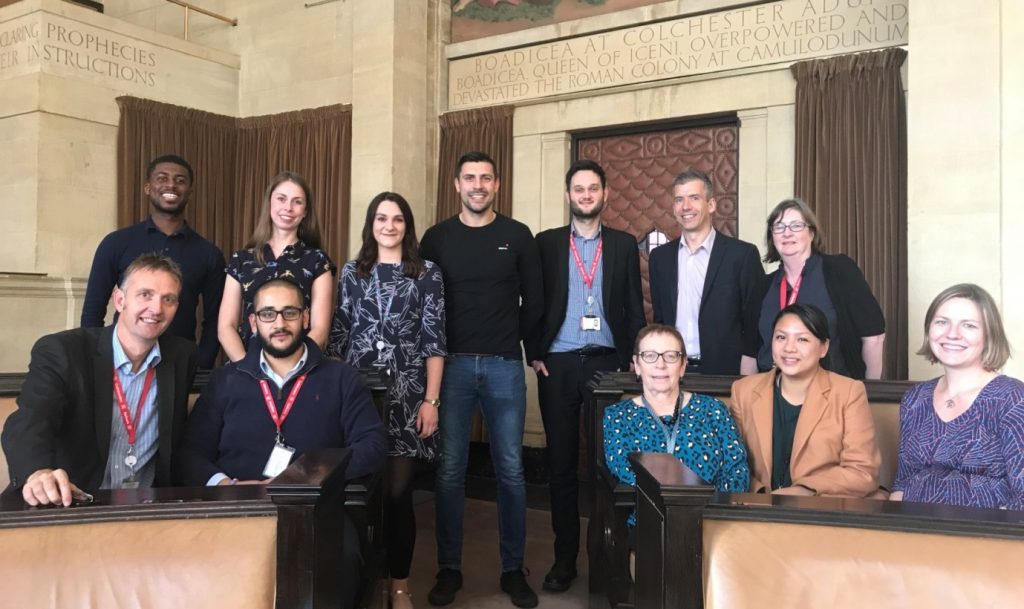 We work to put citizens at the heart of everything we do, and love getting out and about speaking with Essex residents about their views and experiences. This helps us to plan, design and evaluate services with citizens' needs in mind, informed by robust research and insight.
We design and deliver primary and secondary research across all business areas, and have skills in both qualitative and quantitative research methods. In the simplest terms, this means some of us like to talk (maybe too much!) and are great at things like scoping conversations, interviews and focus groups, and some of us are Excel gurus, survey design connoisseurs and data intelligence whizzes – and everything in between!
To enable our organisation and partners to make the best possible decisions, we also challenge and promote best practice through encouraging use of existing research and knowledge. This helps to ensure that all decision-making is based on evidence, with consideration given to how decisions will affect citizen's lives.
We use a range of tools and methods to gather insight into citizens' needs, behaviours and lived experiences. Below is a snapshot of what we do and the methods we use within the team: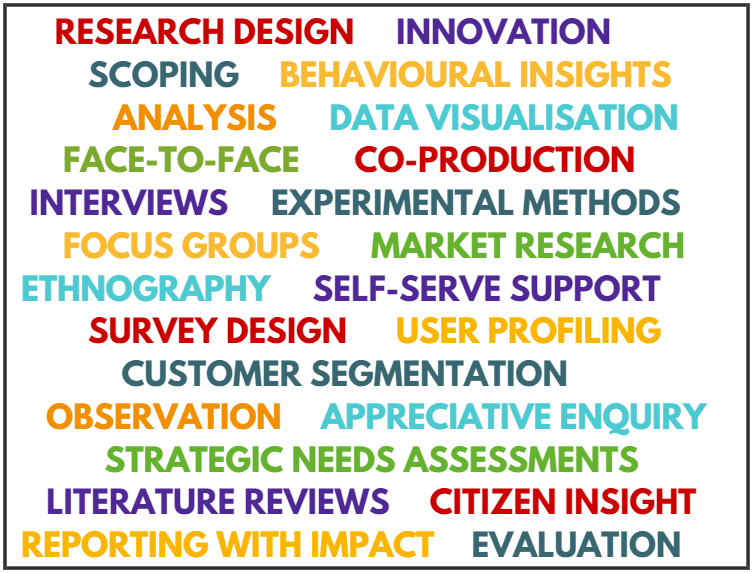 To give you more of a flavour, here are some of the areas we have carried out research in:
Essex Libraries (this was a BIG one – blog coming soon, watch this space!)
Children, Families and Education
Adult Social Care
Domestic abuse services
Passenger Transport
Mental health accommodation
Customer channel shift
Public Health intelligence
Citizen consultation platform
We work best when we get together in a creative space (this means plenty of sharpies and post-it notes!) and bounce ideas off each other. This could be to think about how best to design a piece of research, which methods to use, or making sense of the mountain of insight we've gathered at the end of a stretch of fieldwork.
We also love to share our skills and often advise colleagues on how to run their own engagement, whether this is through a survey or face-to-face sessions. We've started to develop resources for colleagues with tips and guidance around research design and the various methods out there, so that others can feel confident in running some activities themselves.
Keep an eye out for our future blogs where we'll be sharing progress on research projects and keeping you informed of new pieces of work. We might also ask for your ideas from time to time!
Most of the team are pictured at the top of this page, but here's another just for fun and to show off our incredible photoshop skills…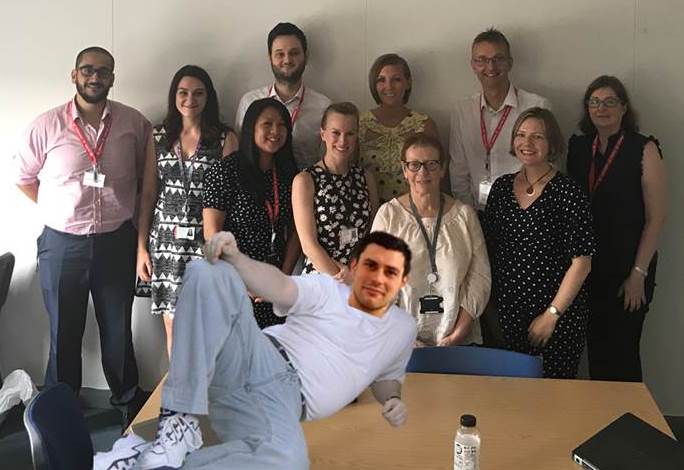 If you want to find out more about what we do, please get in touch with any of the team or the Head of Research & Citizen Insight, Duncan Taylor.