As it's Mental Health Awareness Week this week, I wanted to write a blog to shine a light on some of the work we've been doing at the Essex Centre for Data Analytics and at Essex County Council. Mental health has formed a sizeable chunk of our collective workloads for the past couple of years, and I'm happy to say that we are starting to find some results and deliver some impact. 
Before I jump into the work though, I thought I'd take the opportunity to say why I personally think Mental Health Awareness Week is incredibly important. For nearly 20 years I have experienced depression and anxiety. This has been, at times, debilitating, and at other times extremely manageable. I have tried many different ways of coping with these conditions over the years – including anti-depressants and anti-anxiety medications – but have found over the past couple of years that talking about my experiences openly and honestly has been the most impactful tool I've had at my disposal. 
In my experience, living with and in depression, anxiety and other conditions can feel incredibly isolating, so if anyone reading this blog is struggling with their mental health, please remember that you are not alone. If you would like support for mental health this is a good place to start https://www.essex.gov.uk/mental-health/get-help-and-support 
And if you aren't experiencing it, then please be attentive to the needs of those around you, your friends, family, colleagues and neighbours. That's what Mental Health Awareness Week is all about – being aware. 
Right, to the work. 
As I said at the beginning, we've been doing a lot of work around mental health in Essex, and – as I work in the Data & Analytics team – I've been involved in and witnessed a lot of analytics work going on in the space. The work that's been going on is informing our Mental Health Transformation Agenda.  
DIFFERENT EXPERIENCES BY AGE 
One finding from our recent insight that has sparked a lot of discussion and thought has been the different experiences of people across our system at different ages. We mapped out the journey of some of our service users from the Essex Partnership University Trust, Adult Social Care and Drug & Alcohol Treatment services to show the different ways in which people journeyed through the system – as you can see in the image below.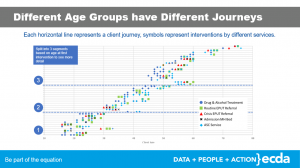 Similarly, the next image shows results from the Essex Residents Survey 2020 and demonstrates clearly how quality of life factors and areas of most worry differ across a lifetime.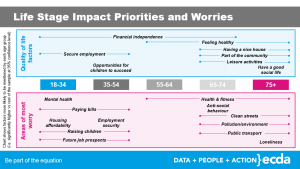 These sorts of insights are helping us to understand the experiences of different groups of people across our system, which is in turn helping us to develop our approaches and the services available to people who need them. 
GEOGRAPHY 
We've also been able to learn that mental health crisis is broadly centred around some specific geographic areas. You can see in the maps below that there are particularly "hot spots" around larger towns such as Chelmsford, Clacton and Colchester. 
Again, this sort of understanding helps us to be planful around resource, and ensure that we are prepared to manage significant demand in the areas where it may be most prevalent.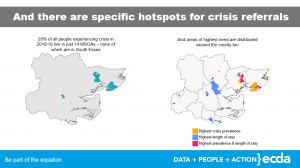 MENTAL HEALTH IS AN ISSUE FOR A LOT OF US 
I said at the start of this blog that something that is important to remember when you are suffering with mental ill health is that you are not alone. To back that up a bit, I thought I'd share another finding from the Essex Residents Survey. 
More than a third of respondents identified Mental Health and Wellbeing as one of the top five things they most worry about. This is exactly why initiatives like Mental Health Awareness Week are so crucial: this is an issue that affects a lot of us.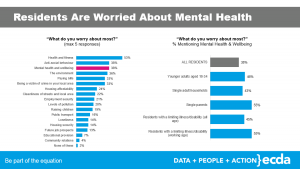 There is a lot more work to be done to tackle mental ill health, and to ensure that people are well supported to stay emotionally safe and healthy. We are continuing to investigate the data and research to help our colleagues to transform mental health support and services in the county. 
I hope that by next Mental Health Awareness Week the conversation will be about the positive changes we have made to peoples lives as a result our collective work in Essex.