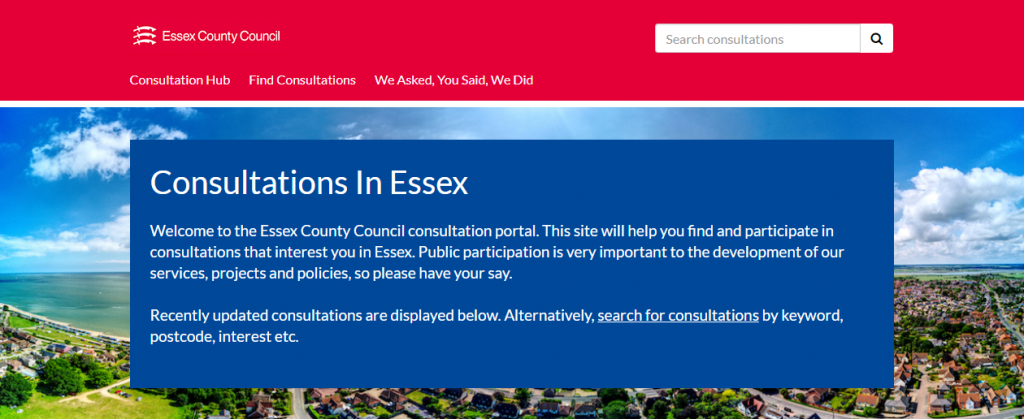 The Research and Citizen Insight team are pleased to announce the launch of our new consultation platform - yes that is an image of Mersea Island on our homepage!
The platform supports our statutory duties and need to consult with the public about the services that we deliver, it can be used for internal surveys too and it's a platform that will help us to work differently across the organisation. It's been a journey to get to this point and we're really excited that it's here!
So here's how it all came about...
Shortly after our new service was formed back in May 2018, we started to think about what we really needed from a consultation platform going forward, as the current contract is coming to an end on 31st March 2019. We wanted a replacement platform that would resolve some issues we had with our previous tool, be kept up-to-date in line with web standards and technology updates, and to aid greater self-serve across the council.
We required a platform that would enable a shift in culture
We wanted to encourage residents to return to participate in different consultations because they could see that their views have led to decision and action. With the previous tool this was not an easy task for consultation owners. As a result, residents could struggle to find out what the council did with survey responses, after they had completed a consultation.
We needed the ability to add planned consultations, create and publish surveys and upload reports in one easy to use interface within one platform, unlike previously. The platform needed to meet our need to share responsibility for administration and allow service areas to lead on specific areas, so that our team can divert resources into quality checking and complex research.
So that's about the benefits for us, but how could we make it the best experience for our residents and consultation owners too?
We held a stakeholder workshop with some of our consultation owners in June 2018 to explain the reasons behind procuring a new platform, gather their requirements and establish a timeline. Understanding the use of the current tool for our stakeholders was vital, and the workshop allowed a group understanding of how a new system would try to make best fit for all. Repeated communication has allowed them to understand how we have progressed through the project.
We also market tested a possible solution with residents with accessibility needs using their own equipment and software. This provided essential insight and evidence to help understand users' needs and what could be improved compared to our current platform. But that is for a future blog!
Thanks to our stakeholders and residents that helped with this part of the project!
What procurement route did we take?
We decided to procure through the Gov.uk's Digital Marketplace as we wanted to take advantage of cost effective smaller providers who might not have the resources to fill in a detailed response to a request.
This was a completely new procurement process for our team and one that we found easy to use and would recommend to others – again another future blog! But for now that brings us to our successful procurement of Citizen Space by Delib Ltd, which was installed in November 2018.
Since then we've been very busy getting the platform ready for launch
Our initial on-site training happened in November 2018 and since then we've been configuring the platform, rolling out training across the council and finding out from our users when they plan on publishing new consultations, so that we can best advise them. By starting this process early it's also given consultation owners plenty of time to take off what they need from the previous system.
The two platforms are running alongside each other to ensure that everything is ready when the previous system is switched off on 31st March 2019, so in the time being check both the previous tool and our consultation platform for current consultations.
And finally...thank you to everyone that's helped us to make it happen - we couldn't have done it without you!