The ethical use of personal data is rarely out of the headlines. Most recently, the proposed introduction of General Practice Data for Planning and Research (GPDPR) has caused controversy with concerns over the use of highly sensitive personal data and whether it will be fairly processed and if data will be sold to benefit commercial organisations. The Government has paused the roll out of GPDPR to allow for more consultation, but the ethical issues remain.
At ecda, we believe that, by bringing together and linking data from different organisations, we can gain a greater understanding of key issues.
The resulting insight can be used in a positive way to support decision making in policy and practice. But we're acutely aware that residents across Essex entrust their data to different parts of government and they have told us that they fear not having a choice over how their data is used. So, there is a massive moral responsibility on us to apply the highest ethical standards to our work.
So, we are embedding ethical considerations in everything we do. We've got fundamental principles in place - we use a highly secure data platform for sharing data, and all our analysis is carried out with data where individuals can't be identified. We'd never sell data nor share identifiable data with a third party. We've also got a strong review process in place to make sure we are always acting ethically.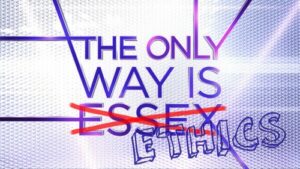 At an early stage in data projects, we produce a detailed ethical checklist, for internal and external review, covering key issues:
Does the use of data have clear benefits for users and serve the public good?
What are the relevant codes and legislation we are applying?
Do we understand the limitations of the data?
Is our use of the data proportionate?
How will we be responsible and transparent in our data use?
We have created an independent Data Ethics Committee (DEC) to provide advice on ethics. We currently have recruited 11 people to this committee bringing a fantastic mix of skills from both the private and public sector as well as representing the interests of the residents of Essex. The DEC will meet regularly to review the ethical assessments we have made and provide advice. The DEC are keen to keep in contact with projects so that they can be sure that we have operated ethically throughout the project lifecycle.
It's a bit of a cliché, but trust takes a long time to build and is easily lost. ecda and our partners recognise that the benefits of delivering really good analytical projects will be lost if we lose the trust of the people whose data we use. We will continue to be ever vigilant and ensure that we operate to the highest ethical standards and enable others to hold us to account.