Party hats at the ready!
Light the candles!
We're turning two and there's lots to celebrate!
Our second year has been one of outstanding collaboration!
Getting people together is what we all love most about a good birthday party, well that and the cake! And we're no different here at the Essex Centre for Data Analytics, after all we're testament to the fact that incredible things happen when people join together.
Partnerships, teamwork, participation, all fundamental to ecda's way of working from day one, became even more important as 2020-21 raised the bar for us! Covid-19 presented a million new challenges and opportunities that would enable us to learn, time and again, that together really is better!
Over the past year collaboration has amplified everything that ecda has delivered to support the most vulnerable and prevent them from harm. Colleagues within ecda and its core organisations - Essex County Council, Essex Police and The University of Essex - our partners from across the Essex system, and our peers scattered throughout the country have united (virtually of course) to achieve our ambitions to connect data and people to deliver action.
Working with our partners we supported the county's response to, and recovery from, COVID-19. Together with our data community in Essex we made the most of video conferencing to identify needs, exchange ideas and unify our goals to build the capability that we need to achieve our collective future goals. Speaking with our citizens we explored their attitudes towards data sharing to gain different perspectives and create a reflective, practical, and critical understanding that has enabled residents within Essex to begin to shape our policies and practices and forge new roles to be involved on an ongoing basis.
ecda projects on gang violence and vulnerability, knife crime, societal impact of COVID-19, domestic abuse and mental health crisis brought together data, research, skills and experiences from all corners to generate significant new insight on the county's shared challenges. This valuable new insight is enabling Councils, Police, health organisations and partners to transform services in the county, commission targeted preventative services, prepare for future demand and has further inspired leaders to imagine what's possible through joining data.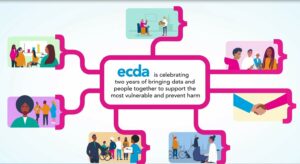 Watch our Year of Collaboration animation here.
Time for Pass the Parcel
It wouldn't be a birthday celebration without presents, and in that spirit ecda would like to gift this blog to you all to mark our second year of collaboration. We hope that this new blog will provide a platform that enables our collaboration to continue to thrive:
a channel through which we can regularly communicate what ecda is working on
an opportunity to introduce you to the people that make amazing things happen every day
a forum to share what we've all learned as we make our way
a showcase for the inspiring data work that's taking place in the county
somewhere to sound out new ideas, seek input from our citizens, colleagues and peers, so that together we can create the data ecosystem that we all want for Essex.
To give you a flavour of what's to come we'll be sharing new content with you daily for the next two weeks as we bring you up to speed on recent achievements and ongoing projects, share new insights and resources that will add value to your work, and introduce new ideas and opportunities for you to get involved in.
Stay tuned as we continue the conversation right here!
Be part of the ecda equation.